SELL, SORT, GIVE, THROW !
Those are probably the first questions you should ask yourselves: what should I keep? What do I throw? Can I sell some of my items? Although it can take a while to sell goods, you do not want to take a rash decision. Hence, the solution might be storing your belongings in a storage unit while finding buyers. Can I give belongings to family, friends, neighbours, or associations? You could organize yourself few days before by storing at home in 3 different areas things to be sold, given or discarded.
Eventually, if you are running out of time, come put everything you need to store in a storage unit. From the storage facility, you will still be able to sell, sort, give or throw your belongings! Only the essential items will remain in your unit. As the unit rental is tacitly renewable, you will still be able to take future decisions about your stuff. As long as the contract is running, your belongings can stay in the unit for weeks, months and years. However, at any time you can stop everything with a 14 day notice and terminate your contract. Flexbox will refund any unused days of rent on a prorata basis.
Is the conservation of your items important? Why would you ask yourself this question? Well, they are a lot of different storage types available out there: a garage, a cellar, a traditional warehouse from a moving company, in a container or in self-storage unit. Every storage type has pros and cons. Self-storage solution might be the easiest, most modern, flexible and most secured option. Humidity and temperature are controlled. Your belongings are store inside a warmed and ventilated building dedicated to self-storage.
You will get your belongings back in very good condition. They will not be damaged by a long storage stay. A personal access code allows you to enter the storage facility every day, it will disarm your unit alarm (yes every storage unit has its own alarm!!).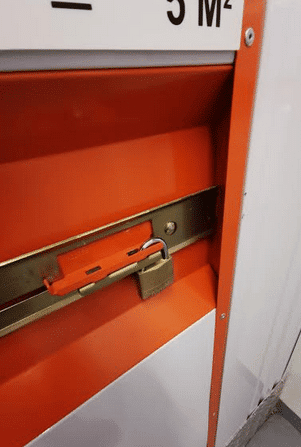 Our customers have had previous bad experience in storing belongings in too damp and unsecured cellar. They have lost their belongings or find them completely damaged. Containers also have humidity problem. That's why companies are specialized in shipping packaging of good in containers. In a traditional warehouse, it can be costly to access your belongings from 50.- to 100.- in Geneva, per access. In addition, how is the security in traditional warehouses? You must check that before making a decision. In a self-storage facility such as Flexbox, you have unlimited access to your belongings as it is included in your monthly fee. We don't even talk about relationship issues with your loved ones if your stuff stay too long at their home. If you want to avoid future raws with them, prefer the simple and stress free solution of renting a storage space or unit.
FIND YOUR IDEAL UNIT SIZE FROM YOUR APARTMENT SIZE!!
You hesitate on which storage unit size and you don't want to spend too much time on it. To make it simple, if you live in a 20 sqm apartment, a 2 sqm unit will fit your need. 
An apartment of 30 sqm will fit in a 3 sqm unit and an apartment of 150 sqm will fit in a 15 sqm unit.
Virtual tour of Flexbox Vernier/Meyrin facility Gate B
Then divide only the size of your house or apartment by 10 to have the unit size you will need to store your belongings.
FROM THE FURNITURE IN YOUR APARTMENT
Do you have a lot of furniture? Most of the time, sofa bed is the bulkiest piece of furniture.
With its 2.7m height, unit can fit vertically sofa beds at Flexbox. It saves on ground surface. A unit of 3sqm to 4sqm can contain a big sofa with other items.
Do you have furniture that can't be dismantled?  Those are the ones taking most of the space in a storage unit.
Generally, apartments are already kitchen-equipped and a lot of items remain when you move out.
On the other hand, your fridge, your dishwasher, your washing machine easily fit into a storage unit. Some appliances are very compact and occupy approximately 1m2 to 1.5m2 on the ground. It will still be possible to store boxes, or even light furniture such as chairs above. You will still be able to store boxes or more light weighted furniture on top.
FROM THE VOLUME INDICATED BY A MOVING PROFESSIONAL
A Geneva based moving professional can indicate a volume of 22 cubic meter or 30 cubic meter.
Some of them indicates square meter size while other gives cubic meter related size. How can I find out my ideal size them?
When moving professional use cubic meter, you can divide the volume size by our height of 2.7m to have the size of a Flexbox storage unit. For example, a volume of 22 cubic meter / 2.7m = 8 sqm approx.
Therefore, to store a volume of 22 cubic meter, you should consider using a 8sqm storage unit. Prices vary depending on which facility you choose. However, the different warehouses all have the same security and free access standards.  https://flexbox.ch/
You can contact our moving partner  . He can evaluate your volume size and guide you for the moving process.
ONLY BOXES TO STORE? SMALL VOLUME? LIVING IN TOWN? SHARING AN APARTMENT?
ransition periods can be numerous and can require to move from an apartment to another. Disagreements with your flatmates can push you out sooner than expected. Renting a storage unit will quickly help you resume the course of your life. You can store all your boxes and come to your unit any day any time. You control who accesses your storage unit with your unique access code and your padlock. Even during weekends you will be able to come back and forth to store new furniture, or remove items from your unit.
In a 1 sqm unit you can fit 20 big boxes. How? By forming 3 piles. A 1 sqm unit is 94 CHF per month in the Vernier facility, but price can vary regarding each location.